Location 302
Dwelling #302
Map 0
---
Address


Area


Barrs Gully


Description




Dwelling #302 Barrs Gully, east side of Round Hill, right bank of Bannockburn Creek approx 50m from the creek. Shown on the A J Park map of 1878


Still Standing


Yes





Walls only are still standing


Construction Details


Stacked stone with pug mortar. May have had a tussock thatched roof. The walls were approx 500mm thick.


Location Type


Dwelling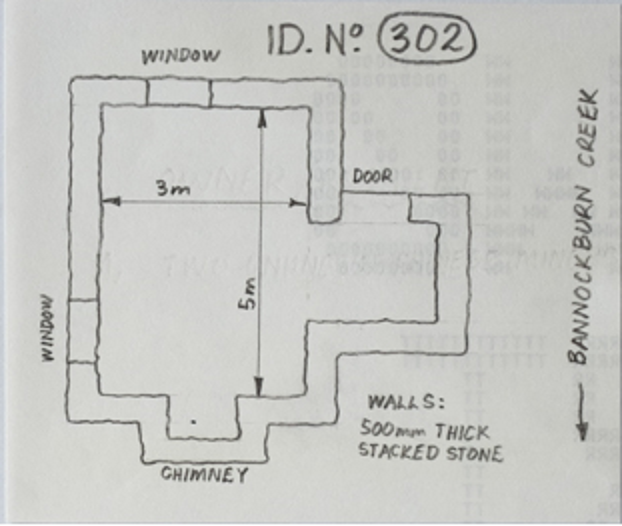 ---
Interested Parties
The table below shows the groups of people that had an interest in this property, either as owners, residents, tenants or shareholders. Clicking on the 'Details' link will display a list of the individuals in the group along with any known historical information about them.
| Group | Date | Description | |
| --- | --- | --- | --- |
| 1 | c1867 - 1878 | Two unknown Chinese miners. | Details |
---
Notes
The table below shows any historical notes about the location.
| Note | Date | Short Description | Note Text |
| --- | --- | --- | --- |
| 3089 | c1867-1878 | General note. | There is s story told by local people about this dwelling. It appears that it was constructed by two Chinese miners who were mining in the Duffers / Barrs Gully area. One of the miners set out to walk to Clyde for their regular supply of stores. When he returned, he found to his horror that his mining partner had been murdered and much of their mining gear, along with their gold was missing. The police in Cromwell were notified and a search of the roads leading from the area was undertaken. A stranger was apprehended in the Kawarau Gorge at a place known as the natural bridge, just upstream of the Roaring Meg creek. It appears that when he realized that the police were approaching, he threw the Chinese miners gold into the river. When the police searched his possessions they found the Chinese miners mining gear. The stranger was arrested for the death of the Chinese miner - it is not clear of his fate. The miners gold was never recovered, despite many attempts to find it. |
---
Images
The table below shows a list of images related to the location. Click on 'View Image' to display more details about the image, and to view the image.
| Image Id | Source | Date | Short Description | |
| --- | --- | --- | --- | --- |
| 646 | Paul Crump - Bannockburn | 2001 | Barr's Corner - Round Hill, looking south. | View Image |
| 647 | Paul Crump - Bannockburn | 2001 | Barr's Corner - Round Hill. | View Image |
| 648 | Paul Crump - Bannockburn | 2001 | Barr's Corner - Round Hill | View Image |
| 2422 | Paul Crump - Bannockburn | c1870 | Dwelling #302 - Barrs Gully | View Image |
---