Location 481
Location #481 - Water Race Pipe / Bridge
Map 9
---
Address


Area


Bannockburn Creek


Description




Location #481 - Water Race Pipe / Bridge Bannockburn Creek - left bank lower water race, opposite and upstream of Wet Gully.


Still Standing


Yes








Construction Details





Location Type


Water Race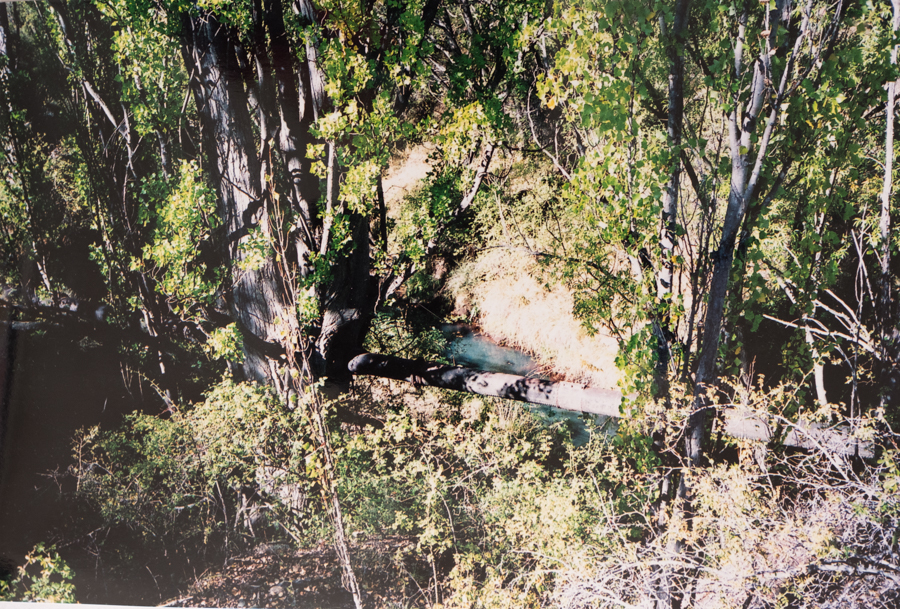 ---
Interested Parties
The table below shows the groups of people that had an interest in this property, either as owners, residents, tenants or shareholders. Clicking on the 'Details' link will display a list of the individuals in the group along with any known historical information about them.
| Group | Date | Description | |
| --- | --- | --- | --- |
| 1 | unknown | Unknown | Details |
---
Notes
The table below shows any historical notes about the location.
| Note | Date | Short Description | Note Text |
| --- | --- | --- | --- |
| 3529 | unknown | General notes. | At this time it is not clear who owned the lower water race on the left bank of Bannockburn Creek, or exactly when it was in use or for how long. The pipe /bridge is situated about 200m upstream and opposite of Wet Gully. It appears to have carried the race in 9 inch (225mm) diameter riveted steel pipes across the creek to the right bank, then back to the left bank. The reason for the bridge may have been to avoid an unstable or worked out area on the left bank. The remaining downstream section spans a sluiced area and is supported by large poplar trees which have grown around the pipe. |
---
Images
The table below shows a list of images related to the location. Click on 'View Image' to display more details about the image, and to view the image.
| Image Id | Source | Date | Short Description | |
| --- | --- | --- | --- | --- |
| 1327 | Paul Crump - Bannockburn | 2007 | Bannockburn Creek - left bank, lower water race. | View Image |
| 1330 | Paul Crump - Bannockburn | 2007 | Bannockburn Creek - left bank - lower water race | View Image |
| 1334 | NZ Aerial Mapping | 9 May 1949 | Bannockburn Creek aerial photo showing locations #480, #481, #482 and #398 (among others) | View Image |
---