Location 482
Location #482 - Water race - Siphon
Map 9
---
Address


Area


Bannockburn Creek


Description




Location #482 - Water race - Siphon Bannockburn Creek, downstream of Wet Gully


Still Standing


No








Construction Details





Location Type


Water Race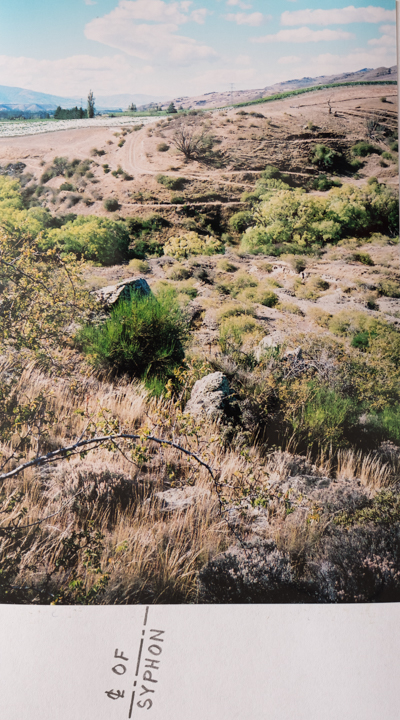 ---
Interested Parties
The table below shows the groups of people that had an interest in this property, either as owners, residents, tenants or shareholders. Clicking on the 'Details' link will display a list of the individuals in the group along with any known historical information about them.
| Group | Date | Description | |
| --- | --- | --- | --- |
| 1 | unknown | Unknown | Details |
---
Notes
The table below shows any historical notes about the location.
| Note | Date | Short Description | Note Text |
| --- | --- | --- | --- |
| 3530 | unknown | General notes. | The water race siphon picked up the water from the upper water race on the left bank of Bannockburn Creek and carried it to the lower water race on the right bank.The outlet point was on the downstream side of Wet Gully. The siphon consisted of approx 110m of old 9 inch (225mm) diameter riveted steel mining pipes. It was installed by Mr Harrison Holloway in the late 1950s to supply irrigation water to his Cairnmuir farm. The siphon was superseded by the Wet Gully dam and pumphouse (location #483) which was installed in the 1970s by Mr Bruce Paterson. |
---
Images
The table below shows a list of images related to the location. Click on 'View Image' to display more details about the image, and to view the image.
| Image Id | Source | Date | Short Description | |
| --- | --- | --- | --- | --- |
| 1331 | Paul Crump - Bannockburn | 2007 | Bannockburn Creek - left bank. | View Image |
| 1332 | Paul Crump - Bannockburn | 2007 | Bannockburn Creek - left bank. Upper water race siphon - location #482. | View Image |
| 1333 | Paul Crump - Bannockburn | 2007 | Bannockburn Creek - looking north west, upstream of Wet Gully | View Image |
| 1334 | NZ Aerial Mapping | 9 May 1949 | Bannockburn Creek aerial photo showing locations #480, #481, #482 and #398 (among others) | View Image |
---