Location 509
Location #509 - Coal Mine Prospecting Drive
Map 11
---
Address


Area


Pigroot Gully


Description




Location #509 - Coal Mine Prospecting Drive Pigroot Gully. No accurate location has been determined, but it may have been approx 200m west of the mouth of the gully on the northern side.


Still Standing


No





No traces of surface workings exist, however some underground workings may still exist.


Construction Details





Location Type


Mine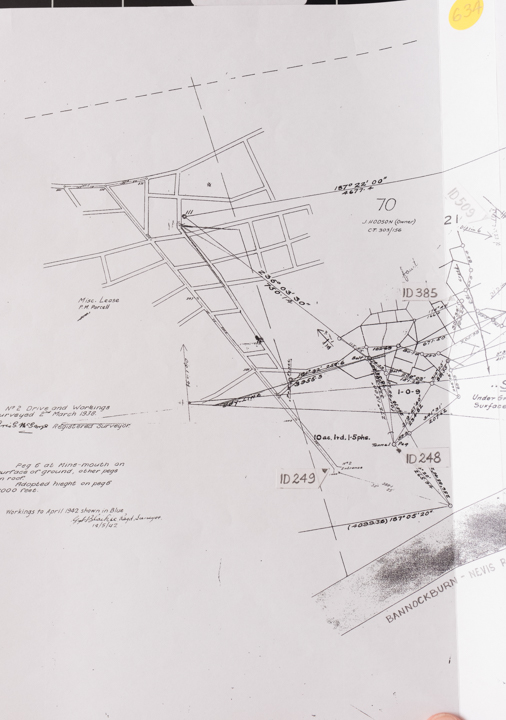 ---
Interested Parties
The table below shows the groups of people that had an interest in this property, either as owners, residents, tenants or shareholders. Clicking on the 'Details' link will display a list of the individuals in the group along with any known historical information about them.
| Group | Date | Description | |
| --- | --- | --- | --- |
| 1 | c1930 | John Hodson (1) possibly. | Details |
---
Notes
The table below shows any historical notes about the location.
| Note | Date | Short Description | Note Text |
| --- | --- | --- | --- |
| 3595 | 1930s | General notes. | A survey plan of location #248, produced by Mr G A Balikie (surveyor) of Gore, shows in pencil as an addition, the position of locations #385 and 509. It appears from the note on the survey plan that location #509 may have been worked in the 1930s. In this case it is possible that it was worked by John Hodson (1). He may have driven a decline to the south of location #385 as shown on the sketch on the survey plan. this decline appears to have been driven north west to intersect location #385 further on past the point where the running sand had caused location #385 to be abandoned. However, the outcome does not seem to have been favourable. The drive appears to have been abandoned as was location #385. |
---
Images
The table below shows a list of images related to the location. Click on 'View Image' to display more details about the image, and to view the image.
| Image Id | Source | Date | Short Description | |
| --- | --- | --- | --- | --- |
| 1156 | Paul Crump - Bannockburn | 23 Mar 1943 | Plan of Shepherd's Creek Coal Mines | View Image |
---