Location 514
Location #514 - Welcome to Bannockburn Sign
Map 6
---
Address

Corner Bannockburn-Nevis Rd and Cairnmuir Rd


Area





Description




Location #514 - Welcome to Bannockburn Sign Corner of Bannockburn-Nevis Road and Cairnmuir Road.


Still Standing


Yes








Construction Details


Mortared cut stone, rescued from the northern bridge pillar of the MacAndrew Bridge.


Location Type


Other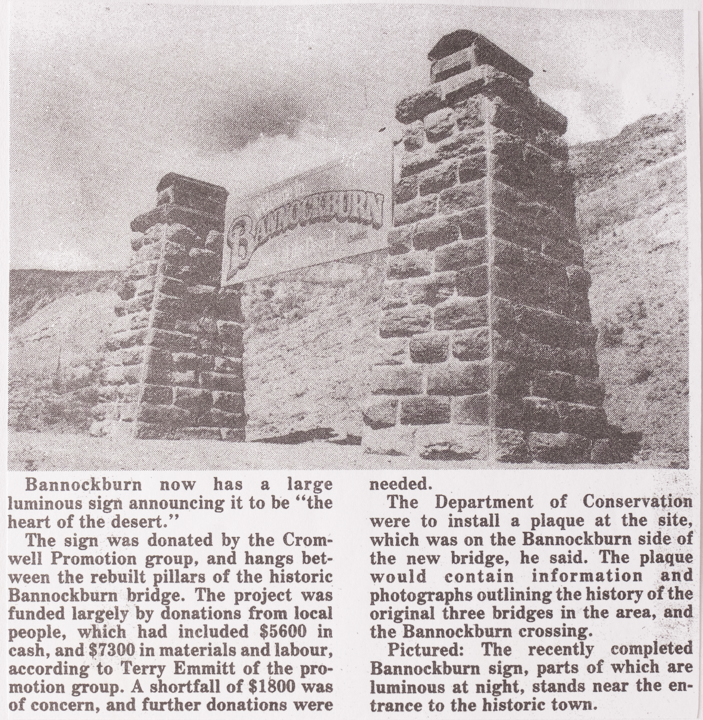 ---
Interested Parties
The table below shows the groups of people that had an interest in this property, either as owners, residents, tenants or shareholders. Clicking on the 'Details' link will display a list of the individuals in the group along with any known historical information about them.
| Group | Date | Description | |
| --- | --- | --- | --- |
| 1 | 1992 | Vincent County Council | Details |
---
Notes
The table below shows any historical notes about the location.
| Note | Date | Short Description | Note Text |
| --- | --- | --- | --- |
| 3607 | 1964 | History of the MacAndrew Bridge | The MacAndrew Bridge (location #155), built in 1897 served as the main communication link to Bannockburn until it was replaced by a new steel and concrete structure (#151) in 1964 In March 1965 a contract was awarded to Jeff W Connelly of Cromwell to demolish the MacAndrew Bridge. For full details of this bridge please see location #155. |
| 3608 | 1991 | General notes. | By 1991 the only parts of the MacAndrew bridge that were still standing were the two piers. These were soon to be demolished to make way for Lake Dunstan. The Bannockburn recreation Reserve committee and a number of local Bannockburn residents formed the Bannockburn Entrance way Sign group. This group approached the Vincent Country Council, the owners of the piers to see if they could be saved. The group wanted to build an historically based welcome sign, supported by two pillars and locate it at the Cairnmuir / Bannockburn Road intersection. The Vincent County Council gave the group permission to relocate the northern pier. With the support of the Ministry of Works and Development - Clyde Power project, Downers Mining, and other local contractors and residents, the pier was removed, the two stone pillars were carefully labelled, dismantled and stored for relocation. The stone pillars were reconstructed in their new location by Cromwell bricklayer and stonemason Mr Ian McKay with the help of Mr Alan Neason, his fellow bricklayer. The rebuilt pillars were topped off with the original cast iron roller cable bearing units from the McAndrew bridge. The pillars were connected by a wire rope supporting a large sign; welcoming visitors to " Bannockburn, the Heart of the Desert ". The luminous sign was produced by Twizel signwriter Mr Rod Rive and mounted on a steel frame made by McIntyre Engineering of Cromwell. |
| 3609 | 1992 | General notes. | The entrance-way sign was completed in March 1992. The Department of Conservation produced an historic plaque which was installed at the base of one of the pillars. This contains information and photographs outlining the history of the river crossings in this area. It is mounted on an original cast iron part rescued from the MacAndrew Bridge of 1897. |
---
Images
The table below shows a list of images related to the location. Click on 'View Image' to display more details about the image, and to view the image.
| Image Id | Source | Date | Short Description | |
| --- | --- | --- | --- | --- |
| 2107 | T C Emmitt - Bannockburn | Apr 1991 | Bannockburn Entranceway Sign Project - Proposal Sketch | View Image |
| 2108 | Southland Times | 19 Sep 1991 | Bannockburn Entranceway Sign Project | View Image |
| 2109 | Central Otago News | Sep 1991 | Bannockburn Entranceway Sign Project | View Image |
| 2110 | Central Otago News | 3 Oct 1991 | Bannockburn Entranceway Sign Project | View Image |
| 2111 | Central Otago News | 28 Nov 1991 | Bannockburn Entranceway Sign Project | View Image |
| 2112 | Otago Daily Times | 29 Nov 1991 | Bannockburn Entranceway Sign Project | View Image |
| 2113 | T C Emmitt - Bannockburn | 12 Mar 1992 | Bannockburn Entranceway Sign Project | View Image |
| 2114 | Central Otago Times | 12 Mar 1992 | Bannockburn Entranceway Sign Project | View Image |
| 2115 | Southland Times | 27 Feb 1992 | Bannockburn Entranceway Sign Project | View Image |
| 2116 | Cromwell Bulletin | 16 Apr 1992 | Bannockburn Entranceway Sign Project | View Image |
| 2117 | Cromwell Bulletin | 16 Apr 1992 | Bannockburn Entranceway Sign Project | View Image |
---