Location 515
Dwelling #515 - Tunnel Dwelling
Map 4
---
Address


Area


Pipeclay Gully


Description




Dwelling #515 - Tunnel Dwelling Pipeclay Gully, below bald hill, south side of Pipeclay Creek. Dug into the north facing white clay / sandstone.


Still Standing


Yes








Construction Details





Location Type


Dwelling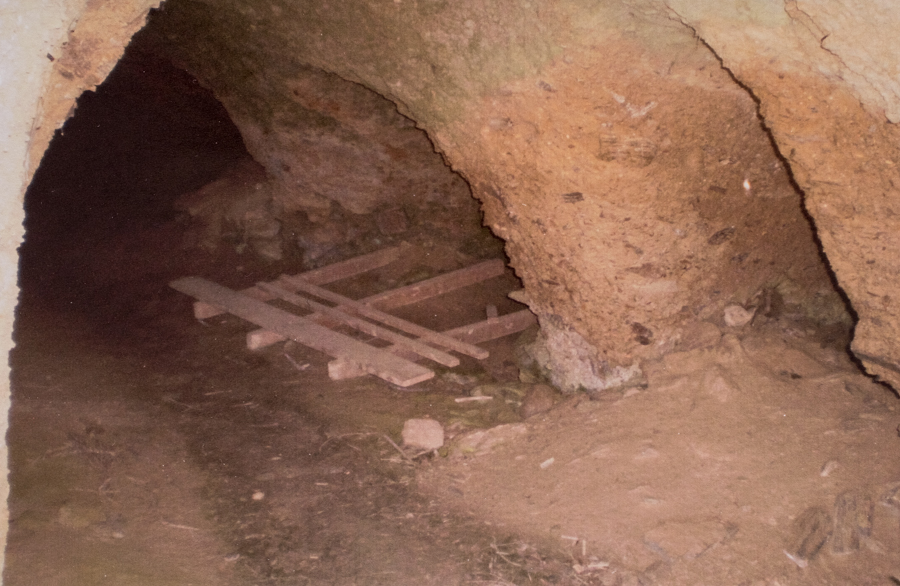 ---
Interested Parties
The table below shows the groups of people that had an interest in this property, either as owners, residents, tenants or shareholders. Clicking on the 'Details' link will display a list of the individuals in the group along with any known historical information about them.
| Group | Date | Description | |
| --- | --- | --- | --- |
| 1 | c1873 ? | Roy, McKersie & Co | Details |
| 2 | c1930 | Gordon Andrew Scott | Details |
---
Notes
The table below shows any historical notes about the location.
| Note | Date | Short Description | Note Text |
| --- | --- | --- | --- |
| 3610 | c1873 ? | General notes. | It is not known exactly when this claim was taken up, but it may have been around 1873. It was common practice on sluicing claims to tunnel ahead to prospect new ground and to save the cost of water to sluice ground that would not pay dividends. The tunnel which forms dwelling #515 may have been constructed by Roy, McKersie & Co. However, this area has been extensively worked until the 1930s so the tunnel may have been dug at any time up until then. |
| 3611 | c1930 | General notes. | It appears that about this time Gordon Andrew Scott arrived in Bannockburn. He was a remittance man. This title usually meant that he had emigrated under pressure from his family. These men were sometimes highly educated people who came from wealthy families. They had usually fallen out of the family's favour or disgraced it in some way - a 'black sheep'.The family would have forced them to emigrate to a far off land. A remittance or an allowance would be provided for them regularly provided they did not return home. There were a number of these men who lived in Bannockburn over the years. Most, like Mr Scott would work as miners, rabbiters, shepherds or farm hands. Gordon Scott set up camp in a gold mining tunnel in Pipeclay Creek (dwelling #515). |
| 3613 | c1960 | Mr Scott moved to an old mans home. | In his old age, Mr Scott moved into the old man's home which was attached to the old Cromwell hospital (now Ripponburn Nursing Home) |
---
Images
The table below shows a list of images related to the location. Click on 'View Image' to display more details about the image, and to view the image.
| Image Id | Source | Date | Short Description | |
| --- | --- | --- | --- | --- |
| 2019 | Paul Crump - Bannockburn | 2014 | Prospecting Tunnel - location #515 | View Image |
| 2020 | Paul Crump - Bannockburn | 2014 | Prospecting Tunnel - location #515 | View Image |
| 2021 | Paul Crump - Bannockburn | 2014 | Prospecting Tunnel - location #515. | View Image |
---